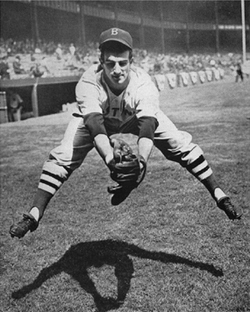 Johnny Pesky, who during a six-decade-long association with the Red Sox as player, manager, broadcaster, coach, and executive became one of the most popular figures in the team's history, died Monday. He was 92.

A lifetime .307 hitter, Mr. Pesky recorded 200 or more hits in each of his first three seasons, leading the American League in that category all three years. He hit .331 in 1942, his rookie season, finishing second to Ted Williams in the batting title race and was third in most valuable player voting. An All-Star in 1946, he was a fine fielding shortstop, his primary position. He also played third base and second base.

He played in an era of outstanding shortstops, including the Cardinals' Marty Marion, the Yankee's Phil Rizzuto, the Indians' (and later Red Sox') Lou Boudreau, the Dodgers' Pee Wee Reese.

And he held the ball.

No Red Sox fan needs to be told what that means. It was during the eighth inning of the seventh and deciding game of the 1946 World Series. The Sox and Cardinals were tied 3-3. There were two outs, with the Cardinals' Enos Slaughter on first. Slaughter broke for second, attempting to steal, and Harry "The Hat" Walker hit a line drive into left-center field. Slaughter kept on going as Leon Culberson fielded the ball. He kept on going as Culberson made a poor throw to Mr. Pesky, the cutoff man. He kept on going as Mr. Pesky turned around. By the time Mr. Pesky realized Slaughter was heading home, it was too late.

It's widely believed that Mr. Pesky hesitated before throwing. Films of the play indicate it was more a case of Mr. Pesky simply needing to hitch his shoulder for a stronger throw. Either way, Cardinal catcher Joe Garagiola has stated that with or without any hesitation Mr. Pesky wouldn't have caught Slaughter because of the head start the baserunner had gotten from the attempted steal.